Henry, this is about as good as it gets. SK
By Henry Antenor
Team Fantastic Four
Since the Cambridge Analytica Scandal, Facebook and its CEO Mark Zuckerberg have been under constant pressure from government and the public. Facebook's security compromise raises worries about user privacy, user information, and mass manipulation during key national events such as the presidential elections. The media have expressed a range of opinions about Facebook, both for and against. The public has not been entirely accepting of Facebook's wavering reaction to the pressure.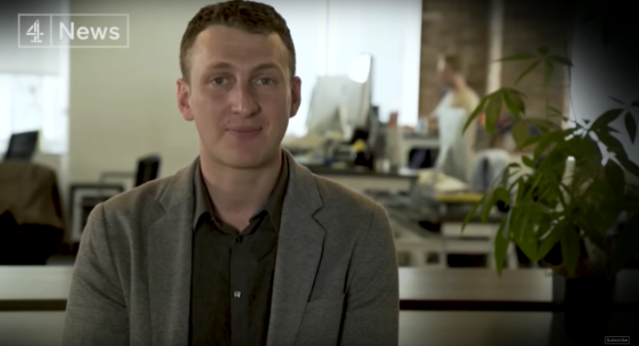 To begin with, the scandal happened when Facebook allowed a third-party researcher, Aleksandr Kogan, a Russian-American at Cambridge University, to develop a program, or an app, to quiz users on the Facebook site. The researcher took advantage of a loophole in the Facebook application programming interface whereby users taking the quiz did not only had their personal data exposed, but the personal data of their friends as well. Kogan took this information and sold it to Cambridge Analytica, which is part of a social consulting firm in Britain that uses personal information to change public opinions through media propaganda. Steve Bannon was vice president of Cambridge Analytica and later Trump's advisor, and the information mined from Facebook could've had an influence on the election.
The Facebook scandal has further far-reaching ramifications. In the book Digital Disconnect: How Capitalism is Turning the Internet Against Democracy, Robert W. McChesney argues that celebrants, skeptics, and plain users of the internet are not aware of the effects the internet has on capitalism and what effects capitalism has on the internet and its users. Additionally, there's democracy being called into question in the turmoil. McChesney is an American professor at the University of Illinois and a Gutgsell Endowed Professor in the Department of Communication, so his positions provide certainty in that he has the authority to speak about such an issue. To understand the Cambridge Analytica and Facebook scandal, a consideration of McChesney's book for logical key points helps explain the motivations of the researcher and the political machine using personal information.
The Facebook scandal also pointed out that social media users need more adequate awareness of their privacy, and the tools available to them designed to protect their personal data (Nyoni and Velempini). The article uses research information based on the population in South Africa and its current Facebook users.  It studies a sample group by evaluating observations of their regular online activities. The writers discern how users release too much personal information in apps on Facebook belonging to third parties. Their information was sold to online marketers and others with intentions to use their data.
Though ignorant users can be at fault, Facebook has been largely blamed and in the center of a backlash following the event. Included in the public outcry against Facebook are journalists such as Matt Taibbi. He denounces it as a dark and insidious force comparable to an evil empire. In his, "The Facebook Menace," Taibbi rips into the social media giant, hailing it as a monster swallowing free press, and an indomitable machine spying on people with the effectiveness of a George Orwellian novel. The article hits on emotional beats without adding anything new to the conversation since other media sites are doing the same. His statements are long and sometimes insulting. "But even Fox couldn't compete with future titans like Facebook when it came to delivering news tailored strictly for the laziest, meanest, least intellectually tolerant version of you," said Taibbi.
David Kirkpatrick reasons that the problem with Facebook isn't its massive power, its social media popularity, or its ability to replace old news media outlets, but its ambiguity towards business in the beginning of its creation. This is a critical perspective expounding upon the controversy sounding Facebook, and it's ethically sound since Kirkpatrick covered Facebook as a journalist since it started. He claims Facebook is trying to be both a humanitarian effort and the fastest growing capitalistic business model simultaneously, which ambition can lead to trouble. There's lots of money to be made if Facebook focused solely on advertising.
"The data they created turned out to be eminently exploitable—particularly if you wish to target specific groups of people to sell products, ideas or political candidates. It was better than anything advertisers had ever seen," said Kirkpatrick. The problem lies with how far stretching Facebook can reach in the political sphere and in the privacy of users. "Facebook's crisis is one of governance. The company faces excruciating choices in how to manage itself, what to communicate with users, what content to allow or ban and how to deal with governments. In many ways, it is more powerful than those governments, in that its reach expands beyond borders to take in the entire world."  Kirkpatrick statements are measured, reasonable, and neutral, and his proximity to Mark Zuckerberg adds to the logic of what he's saying.
When Zuckerberg faced Congress, the climactic match up was played over television and online through YouTube. Multiple online commenters posted on various platforms, from blog sites, to official news channels, to Twitter, and many others. Zuckerberg responded to Congress's questions ranging from rights to privacy to exploitation by Russians. He made efforts to clear up misconceptions about the company, such as how Facebook does not sell users' private information. They allow third party advertisers to request a position on their platform. Zuckerberg's concerns adhere to the reality of regulating aggressive forms of fake news, privacy attacking programs, and exploiters of Facebook's media site, while also trying to maintain a level of freedom where friends can connect and share content around the world. As of now, Facebook has striven to protect users' information, and had prompted understandable policy regulations on their users' feeds when they log on to Facebook.
In conclusion, the media and the government are not in favor of the power Facebook wields, especially with the possibilities of how it affected the election and squandered users' information. Since then, Facebook has changed its policies and continued tried to bring back the trust it lost. It remains to be seen whether the public will ever again be as trusting.
Works Cited
Facebook, 2004, http://www.Facebook.com. Accessed 17 Jun. 2018.
Kirkpatrick, David. "The Facebook Defect." Time, vol. 191, no. 15, 23 Apr. 2018, pp. 38-44. EBSCOhost, ezproxy.fiu.edu/login?url=http://search.ebscohost.com/login.aspx?direct=true&db=a9h&AN=129021680&site=eds-live.
McChesney, Robert Waterman. Digital Disconnect: How Capitalism Is Turning the Internet against Democracy. The New Press, 2013.
Nyoni, Phillip and Mthulisi, Velempini. "Privacy and User Awareness on Facebook." South African Journal of Science, vol. 114, no. 5/6, May/Jun2018, pp. 27-31.
Taibbi, Matt. "The Facebook Menace." Rolling Stone, no. 1311/1312, 19 Apr. 2018, pp. 42-57. ezproxy.fiu.edu/login?url=http://search.ebscohost.com/login.aspx?direct=true&db=a9h&AN=128798954&site=eds-live.
Watson, Chloe. "The Key Moments from Mark Zuckerberg's Testimony to Congress." The Guardian, 11 Apr. 2018, theguardian.com/technology/2018/apr/11/mark-zuckerbergs-testimony-to-congress-the-key-moments.