Very impressive report. Very well done. I have made
some edits in red. You will do well on the final.
writing quality is very good.
visual quality is excellent.
logical argument is very good.
analysis of event is  excellent
use of class lectures, readings and concepts could have been stronger, really the bulk of the report, but I realize that  you are seeing this from an engineering viewpoint
how one person influenced the event is excellent
use of sources is good (format is not MLA style). You have many excellent sources, however.
Quiana Major ,

07/16/2018 |

Team02
"When something is important enough, you do it even if the odds are not in your favor."-Elon Musk
February 06, 2018; Cape Canaveral, Florida; fifteen hundred hours EST: a mixture of silent anticipation only broken by the occasional verbal confirmation, outbursts of vital health and mechanical status updates, and the ultimate God–like exposition of the launch countdown. Eighty people in mission headquarters huddle over computer screens and keyboards awaiting with great fear and titillation. Every eye fixed, every number accounted for, every little contention has been checked and rechecked and checked again. To ensure that the launch of Falcon9 into Earth's exosphere, successfully to delivering and the successful delivery of much welcomed supplies to the international space station (ISS).
The world was watching through streaming apps like Youtube and Instagram, and on major and local news channels, and listening on radio broadcasts and podcasts covering this now seemingly widely normalized occurrence of successful space travel. I sat patiently on a bus to university that day in Florida watching a piece a history on my Android cellular device; one of twenty-two million Youtubers looking up at the stars through the medium of technology. Understanding the deeper message of technology being a window to our future worlds beyond our own rock.
"Launching rockets to space is a high-stakes, unforgiving business, with razor-thin margins between success and failure and catastrophic consequences when things go wrong. Sometimes the smallest problems can doom a payload—and in the most tragic circumstances, an entire crew."Joe Pappalardo, Popular Mechanics(2018)
The Falcon9 has the advantage of reusing the same rocket for multiple mission launches due to proprietary advances in remote navigation, jet propulsion gyroscopic stabilizing systems, and aerospace materials and design sciences. the Falcon9 has the capability to, once reaching Once it reaches the mesosphere and detaches from the cargo vessel, the Falcon9 has the capability to return to Earth through the SpaceX guidance system and can land safely on seas. It can land depending on angle of trajectory or location of the ISS at time of launch to save as much fuel as possible.
With the advent of the reusable and affordable vertical takeoff and landing (VTOFL) rockets like the Falcon9 mentioned above, SpaceX is charting the endeavour of endeavoring to lay the foundations for the market of space tourism, extraterrestrial planetary colonization, and the exploration of minerals and other resources to propagate life and commerce beyond the stars. For one company to have such a pivotal role in the future of human society begs prompts the questions: what is SpaceX intrinsically, who is Elon Musk, and what does today's pop culture think about one private American aerospace company shaping so much of what's to come? These questions can be answered through socratic methods of rhetorical analysis of world media coverage and scientific acknowledgment of some common canonized beliefs on the sociological implications of space travel on world culture.
I was introduced to SpaceX through my studies at university as a Mechanical Engineering senior, but I have been aware of Elon Musk through his youthful ventures of Tesla and Paypal since my tender primary school days. Other than SpaceX, Tesla, and Paypal, Mr.Musk created Deepmind Technologies and The Boring Company, all of which are companies on the cutting edge of personal technology, commerce, weapons, and travel.
According to its website, SpaceX designs, manufactures and launches advanced rockets and spacecraft. The company was founded in 2002 to revolutionize space technology, with the ultimate goal of enabling people to live on other planets. Headquartered in southern California, SpaceX self-promotes its role as one of the world's fastest growing providers of launch services, securing hundreds of missions that include commercial and US government missions and, by the end of 2018, ferrying NASA's Commercial Space Crew into the cosmos, according to NASA's 2018 Audit.
SpaceX was the wet dream brainchild from South African-American founder Elon Reeve Musk. Elon Musk is comparable to Marvel's Tony Stark: a boy genius who grew up to use his intellect to save people. Musk is credited with having an INTJ personality type, meaning that he is one of the rarest and most strategically capable personality types there is, according to 16 personalities physiological behavioral trait testing website. People with the INTJ personality type are imaginative yet decisive, ambitious yet private, amazingly curious but they do not squander their energy. Most of what the general public knows about SpaceX is the information released by the company itself on its SpaceX website: allowing for free and open streaming of launches, tests and tours of mission facilities virtual and in person; such as the preliminary crashes of the Falcon9 and all NTSB findings that were released on what caused the crashes and what actions were recommended to prevent them in the future.  There is little manipulation of information released on SpaceX's direct site in regards to both its triumphs and failures.
Marshall McLuhan, a Canadian professor, philosopher, and public intellectual, was most notably known for his research and publications into study of media theory. His ideas of a global village are what dictate our tech-heavy web-based pop culture today. Our popular culture offers both pathos and logos arguments to sway public opinion and influence governmental policy and economic intrigue. With the ISS having billions of Twitter followers, millions of Instagram followers as well as Facebook Page likes, space travel has become a popular topic reminiscent of the space race of the 1950's and 60's, when the moon was once a stepping stone to the human race expanding beyond our solar system and colonizing other planets. The development of social media platforms along with SpaceX's success rate has revitalized passion in exploratory space travel. SpaceX within popular culture is held in close regard to expanding the world debate on what is possible in the coming years of space travel; as we can see, the conversation has shifted from the moon to talks of settling Mars. Coupled with SpaceX's release of detailed plots, ideas, visuals, mechanics, and government operations, pop culture gave us movies like The Martian, TV shows like Mars, and memes like America's Creation of a dedicated Space Force military branch in early 2018.
Although there's much speculation and backlash in regards to the announcement made by President Donald Trump in his June 18th, 2018 press conference about the creation of the US Space Force, my personal hope is that it could function like a real world Starfleet.
The February 6th Falcon9 launch is a huge testament to how SpaceX is leading the debate on space travel. With major news circulating positive headlines of intrigue like :

"SpaceX launches world's most powerful rocket: Live updates"

By Meg Wagner, Veronica Rocha and Amanda Wills, CNN February 6, 2018
"Mission to Mars: NASA Ames Shows New Technology Being Developed"
By NBC Bay Area staff Jul 13, 2018
"SpaceX Falcon Heavy rocket launches successfully"
By Chris Ciaccia, Fox News
The negative media coverage also plates SpaceX as the standard for Aerospace Companies with head lines like:
"China plans 'megarocket' that could outperform NASA, SpaceX, expert says"
By Chris Ciaccia,Fox News

"Elon Musk: SpaceX and Tesla alive 'by skin of their teeth"
BBC staff, 2018
Elon Musk has been portrayed as a crazed, megalomaniac dogooder (such as in this report). Although within popular culture Mr. Musk is a controversial figure, his adoration of knowledge, perfectionism, and sure will, causes for the occasional conflict and public romantic challenges. An example is the recent public Twitter controversy in which he was labeled a petulant instigator after the rescue mission of the team of boys found trapped in a cave in Thailand. Not only did the rescue mission not use the sub that Mr.Musk specifically designed for the safe removal of the boys but they discredited the capability of remote rescue vehicles. This led to accusations of pedophilia from Musk directed at the British  rescue team leading the effort at the time.
"Our Earth is becoming too small for us, global population is increasing at an alarming rate and we are in danger of self-destructing."(Stephen Hawkings)
There are mixed feelings on ethos arguments within the scientific and entrepreneurial worlds. On one had there are scientists such as Stephen Hawking who has said "Space travel, having achieved a lunar landing, our sights are now set on our neighbor Mars. With private companies like SpaceX, as well as government aerospace programs, taking an interest in the Red Planet, along with increased public interest, it would seem that we are entering a new space age." To business leaders like Bill Gates publicly disagreeing with Elon Musk claiming a sense of paranoia from the SpaceX founder.  As well as the public feud between American president Donald Trump and Elon, there is much to be said about the scientific community butting heads with industry. Even on the scientific side Elon faces criticisms from Dr. Tyson who says "We (as a people) need to reconsider the space time continuum before we start colonizing other planets." However, I am in agreement with retired NASA astronaut Scott Kelly who stated in a CNBC interview stated that "I'm not going to ever doubt" Elon Musk.
"With exploration comes colonization and with colonization comes exploration"-Adam Rutherford
SpaceX and Elon Musk are making and have made global impacts that, as theorized by physicist Ian Crawford, would sociologically redefine the human dilemma and expand it into the universe. In Crawford's case, faster than light (FTL) space travel would lead to the creation of galactic empires and political or religious scrimmages based on who develops the technology to colonize the fastest. With the negative aspect of space exploration causing wars, it would also have positive economical, cultural and philosophical impacts. Economically, space travel in itself would be a new market, and the real estate industry would have an endless supply of land as long as technology can sustain life; and the mining of precious metals, known and unknown,  would make creating goods even cheaper. Culturally, space travel would unify entire planets, and skin deep racial prejudices would be replaced by planet of origin. The catalyst of all these cultural shifts are rocket launches like the February 6th SpaceX Falcon 9 launch. It is the launch that launched a thousand ships. Not going gentle into that good night, Elon Musk uses his technological medium to rage into the that good night of space exploration and pop culture.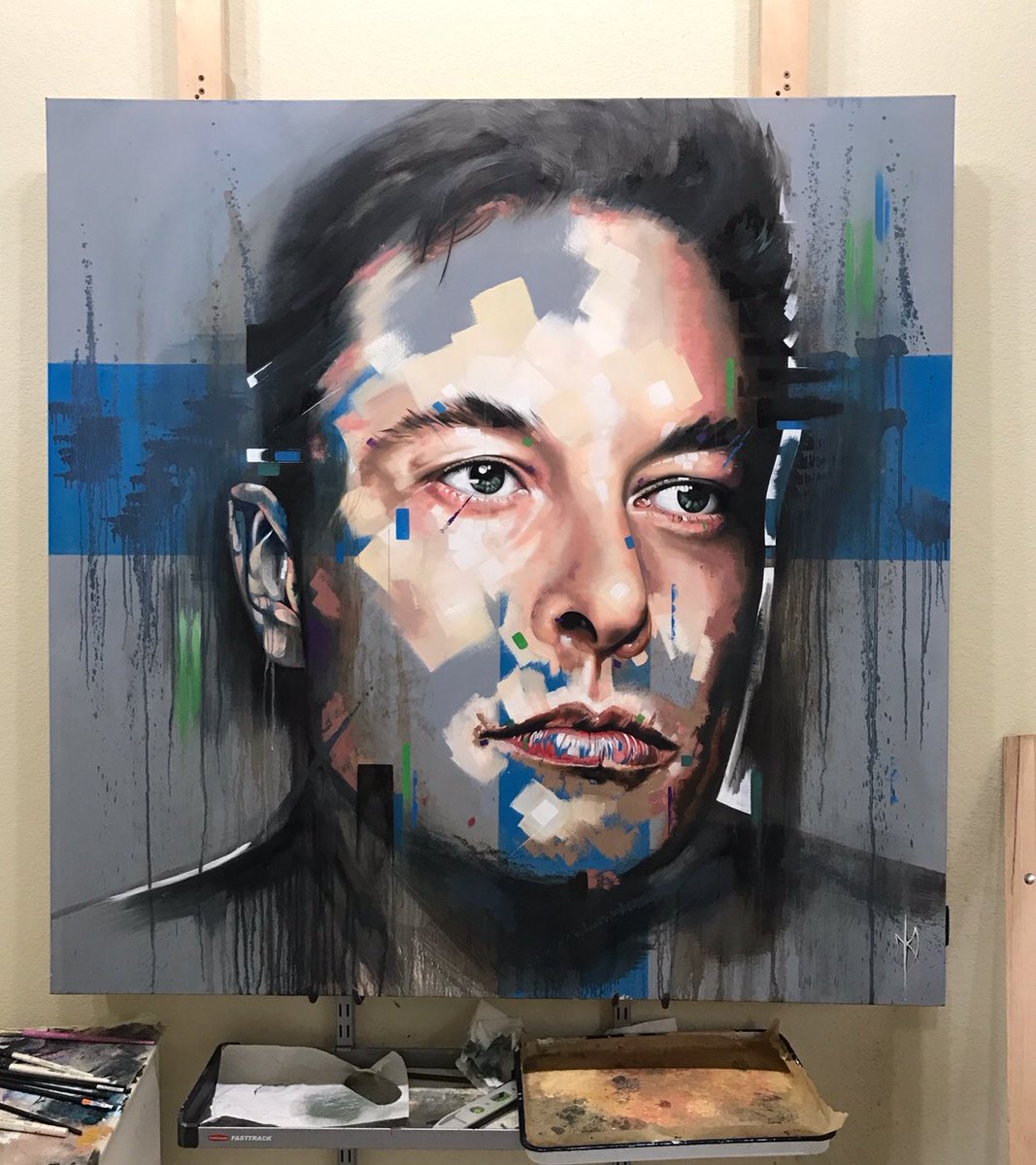 Works Cited
Crawford, Ian Andrew .Some Thoughts On The Implications of Faster-Than-Light Interstellar Space Travel. London,UK , Journal Article of Royal Astronomical Society & NASA Astrophysics Data System,[1995], 2018
Vance, Ashlee. Elon Musk: Tesla, SpaceX, and the Quest for a Fantastic Future.New York, NY Harper, an imprint of HarperCollinsPublishers, [2017]