Excellent job!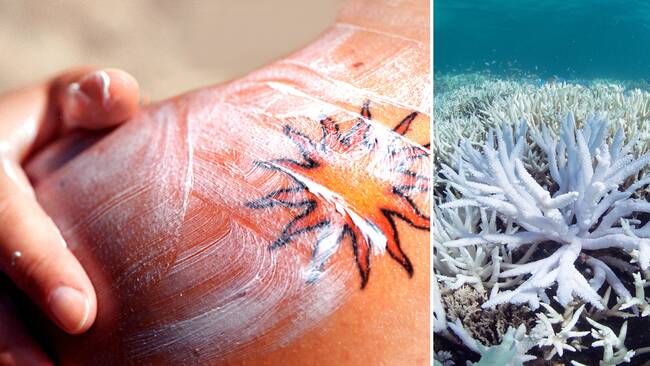 Palau placed a ban on "reef toxic" sunscreen to protect its coral reefs (Perrigo). Although the actual effect of the ban is uncertain, it has garnered global attention in various news sources. Rhetoric used by supporters may generate public support which will lead to manufacturers and others countering with the virtues of sunscreen and the need for further research.
Palau has taken the leap to become the world's first country to ban harmful ingredients in sunscreen to protect its precious coral reefs (BBC). Starting January 2020 anyone importing or selling sunscreen containing any of 10 banned chemicals face a $1,000 fine and tourists who bring banned sunscreen into the country will have it confiscated (Guardian). This brings on the controversial topic of the lack of knowledge in the field of epizootiology and also brings to the forefront how little we know about the preservation of coral reefs (Woodley). This shortage of information is skimmed over in many of the Palauan articles about this topic. The articles take on a pathos form of speaking hoping to pull on the heartstrings of the readers and skimming over the logos, which is what calls the attention scientists and critics alike. The controversy comes in the fact that some scientists do not agree that banning sunscreen will make a large enough effect on coral reefs that would warrant a countrywide or even citywide ban (Beitsch). Some also believe this will do more harm to humans that good to the coral reefs (Raffa). The threat of skin cancers becomes an important part of this ban and its thought process. The pros and cons must be weighed out. 
The article in Chemistry in Australia, "Sunscreen Ingredient Polluting Coral Reefs"uses ethos from the rhetorical triangle by having the article published in the "Archives of Environmental Contamination" as well as relying on the fact that it was written by a well known doctor from the field of environmental studies (EBSCOhost). This article also uses logos by having technical and scientific jargon to explain the effects of the banned sunscreen ingredients and their chemical properties, going as far as explaining how they each affect the coral reefs. There can also be an argument made for pathos in this article. This article goes into gruesome details on how the coral reefs are affected by different chemicals, detailing how the damages to their DNA affect them to the point that they may encase themselves in their own skeleton and then die. Coral reefs have been a controversial topic since the 1970s; there has been discussion on how they are being attacked at a global level. Sunscreen Ingredient Polluting Coral Reefs again uses logos whenwriting that weather and climate changes are to blame for much of the global destruction of the coral reefs, but also admits that the problem may be more locally specific. This refers to pollution, which is a cause that is gaining more and more popularity among those that wish to preserve the coral reefs of the world. 
Despite the different opinions, IslandTimes used both ethos and logos when they posted, "Palau Becomes the First to Ban 'Reef-Toxic' Sunscreens" about how Palau would be making history by being the first country to place a country-wide ban on sunscreens containing the ingredients that are harmful to the coral reefs (IslandTimes). This would be considered ethos because it was posted on the online newspaper in Palau, which is a trusted site used by the whole country as a credible place to receive their news. It is also ethos because of the mention to the Palauan president, Tommy Remengesau, and his agreement in how the chemicals found in sunscreens are harmful to their coral reefs. It also appeals to the logos argument because of the details posted about the amount of sunscreen that enters their waters everyday as well as the breakdown of what will be done with sellers, tourists, and Palauans alike. 
In this attached youtube video below by Newsy, they talk about the fact that Palau is becoming the first country to ban sunscreens that contain harmful substances to coral reefs. This law will be put into place in 2020 and will be banning ten chemicals usually found in sunscreen. This video uses ethos to describe the ban, mentioning that the president from Palau is the one that signed the ban. They use the president as a persuasive technique as to why you should listen and see the importance. 
This topic does not contain much secrecy. The facts are all there. It is more about giving their side of the topic, the believers of the ban, and the doubters. Since it is a fairly unpopular topic, most of the news has been spread through newspapers and not other forms of media like television news or books. Freedom of information is not an issue when it comes to the sunscreen ban in Palau. This topic is wide open in giving two sides of the coin on what the issue is, you either agree or you do not. McLuhan's, "the medium is the message" comes into play with this topic. The ban of the sunscreen ingredients becomes less important if given by a site that is not as trustworthy. Considering that many of the more popular, reliable sites like BBC and USA Today are in agreement to the facts that Palau is placing a ban on ingredients as well as them being the first country to do so, gives McLuhan's words a place in the story. If this topic were to come from a country like China, that has had issues with censorship in the past, it may make readers more skeptical to the facts and reasons behind it. It goes to show how important sources and transparency are. 
Annotated Bibliography
Perrigo, Billy. "Why the Pacific Island of Palau Is Banning Sunscreen." Time, Time, 7 Nov. 2018, time.com/5447739/palau-sunscreen-ban-coral/. 
McGrath, Matt. "Coral: Palau to Ban Sunscreen Products to Protect Reefs." BBC News, BBC, 1 Nov. 2018, www.bbc.com/news/science-environment-46046064. 
Guardian staff and agencies. "Pacific Island to Introduce World-First 'Reef-Toxic' Sunscreen Ban." The Guardian, Guardian News and Media, 2 Nov. 2018, www.theguardian.com/world/2018/nov/02/pacific-island-to-introduce-world-first-reef-toxic-sunscreen-ban.
Woodley, Cheryl M., et al. Diseases of Coral. Wiley Blackwell, 2016
Beitsch, Rebecca. "Some Sunscreens May Kill Corals, but Should They Be Banned? Scientists Are Not so Sure." USA Today, 9 Mar. 2019, 8am, www.usatoday.com/story/news/nation/2019/03/09/some-sunscreens-may-harm-coral-reefs-should-they-banned/3106001002/. 
Raffa, Robert B., et al. "Sunscreen Bans: Coral Reefs and Skin Cancer." Journal of Clinical Pharmacy & Therapeutics, vol. 44, no. 1, Feb. 2019, pp. 134–139. EBSCOhost, doi:10.1111/jcpt.12778. 
"Sunscreen Ingredient Polluting Coral Reefs." Chemistry in Australia, Mar. 2016, p. 6. EBSCOhost, ezproxy.fiu.edu/login?url=http://search.ebscohost.com/login.aspx?direct=true&db=a9h&AN=112702347&site=ehost-live&scope=site.
Pojas, Rhealyn. "Palau Becomes the First to Ban 'Reef-Toxic' Sunscreens." IslandTimes, 27 Dec. 2018, islandtimes.us/palau-becomes-the-first-to-ban-reef-toxic-sunscreens/. 
Treviño, Julissa. "Can We Create Sunscreen That Protects Both Humans and Coral Reefs?" Smithsonian.com, Smithsonian Institution, 16 July 2018, www.smithsonianmag.com/science/scientists-are-unraveling-new-dangers-sunscreen-coral-reefs-180969627/.